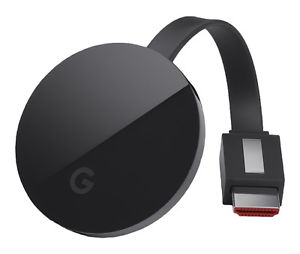 How To Buy The Google Chromecast Ultra - International Shipping
Looking to buy the Google Chromecast Ultra from the United States and get it shipped internationally to your country? Just follow our simple guide to get it delivered cheaply and efficiently.
Option 1: Buy Directly From The Retailer (with International Shipping)
Try this option first because if you can get the Google Chromecast Ultra shipped directly to your country then this is always the cheapest and fastest option.
Option 2: If The Retailer Won't Ship Internationally, Use A U.S. Shipping Forwarder
Step 1: Sign up for a shipping forwader
For the Google Chromecast Ultra, we recommend MyUS.com because we've personally shipped more than 1,000 packages with six different package forwarders and MyUS has the lowest rates, is tax-free, and is the most popular U.S. shipping forwarder by far.
MyUS will receive your Google Chromecast Ultra and then ship it to any country worldwide. And if you have any issues placing your order, MyUS's concierge service can place the order for you.
Step 2: Buy the Google Chromecast Ultra
Once you've set up your U.S. shipping address with MyUS, you're ready to make your purchase. Just visit the website, input your MyUS address, and place your order!
Option 3: Order The Item From eBay
If the retailer won't ship to freight forwarders or you have trouble placing the order, eBay is a great third option where you can frequently find sellers who will ship the Google Chromecast Ultra internationally.
Description
With the advances in technology, there are many powerful devices that come in small packages. One such device is the Google Chromecast Ultra Media Streamer in black. The Google Chromecast is a media streaming device that connects to HDR and 4K Ultra HD television through its HDMI port and makes it possible to watch movies, TV shows and other programming from streaming services like Hulu, Netflix, and Vudu as well as individual networks like CBS and NBC. All it takes is an Internet-enabled iOS or Android device, laptop or desktop computer that uses Mac or Windows operating systems or a smart TV. It uses connections like Ethernet, microUSB, and HDMI. It is also possible to use your TV as a complete media center because the Google Chromecast Ultra Media Streamer also gives you access to music stations, video gaming sites and much more. By working with HDR and 4K Ultra HD television, the picture quality provided for the programming from the Google Chromecast Ultra Media Streamer is stunning to look at. The device also provides smooth streaming with little to no buffering. It also eliminates the need for a separate remote because the smartphone, tablet or other device that is supplying the Internet access is also the remote control. It is able to mirror what is on any device and mirror any website, such as social media apps, news website, sports information websites and music sites. For those who also have a Google Home device, you don't even need to use a device to control the content coming from the Google Chromecast Ultra Media Streamer as you can simply issue voice commands to your Google Home device and the streaming device responds in kind.
Countries You Can Ship The Google Chromecast Ultra To
Using a package forwarder, you can ship Google Chromecast Ultra internationally to any country or region in the world including Australia, Austria, Belgium, Canada, Czech Republic, Denmark, Finland, France, Germany, Greece, Hong Kong, India, Indonesia, Italy, Japan, South Korea, Kuwait, Malaysia, Netherlands, Norway, Russia, Saudi Arabia, Singapore, South Africa, Spain, Sweden, Switzerland, Taiwan, Thailand, United Arab Emirates, United Kingdom (Britain / England / UK), Africa, Asia, Caribbean, Central America, South America, Middle East, and Europe. It should be noted that there are personal shopper services that can help you buy from any store, includingGoogle Chromecast Ultra, even if they block or don't ship to freight forwarders.
About Borderoo
Borderoo used to be a personal shopping / concierge service that charged a fee to help international customers buy anything from the United States, including the Google Chromecast Ultra. Now we provide helpful guides (for free) on how to get the Google Chromecast Ultra and any other type of American product shipped worldwide.